Same roots. New foliage.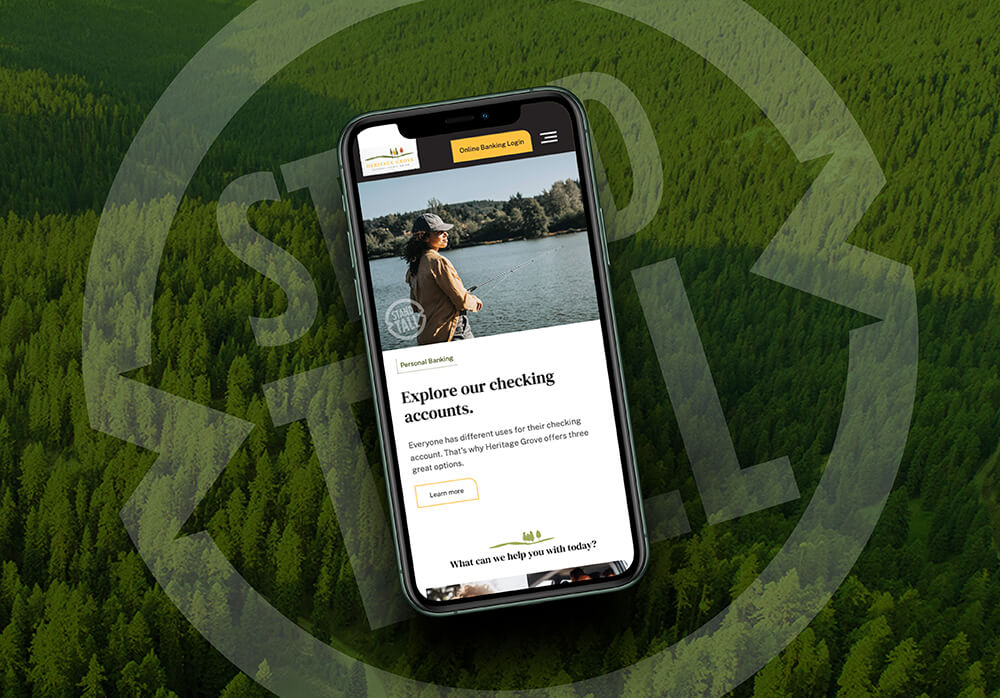 Heritage Grove FCU's new website gives users a modern experience.
Heritage Grove FCU is a name evoking the quiet serenity of an old-growth forest, but the roots of this Salem, Oregon financial institution run even deeper. The former Oregon Employees Federal Credit Union established a strong, thriving brand with Raoust+Partner's help back in 2013, inclusive of a new website that was named one of the 100 most beautiful financial websites by The Financial Brand. But, as we all know, even beautiful websites have a life cycle, and Heritage Grove's leadership team decided 2020 would mark the first major website redesign since. They once again asked Raoust+Partners to undertake the project.
The strength of this brand is evident even when looking at the old website—its identity and purpose leveraging the great outdoors while promising the comforts of communal togetherness. The old website was mission-driven to draw members and prospects inward, advocating members to 'Stand Tall' in the wake of the financial crisis of 2008 and its aftermath.
The 2020 redesign objectives were, in some ways, starker and at times utilitarian with user experience in terms of navigation and usability Mission #1. The real challenge, then, was to find joy in the openness and clean lines, while paying homage to the organic design elements that defined the initial brand redesign. The choice was made to maintain a clean color palette, based on the brand style guide, with a few updates for added dimension. Raoust also defined a responsive grid approach that simplifies the UX, yet possesses the engaging character of the original site. Finally, the site's content structure was deconstructed and then rebuilt—based on seven years of analytics data—to better meet members' and prospects' needs.
Thus was born a clean, contemporary new website design that combines a framework ideally suited for any device or browser size. By heavily focusing on a mobile-friendly experience, it is clear that for Heritage Grove members and prospects, the future is and will be a mobile-first one.
With the advent of the COVID-19 pandemic, this design approach has taken on even greater significance. As Heritage Grove has been quick to realize, embracing the new normal and bringing as many resources to bear as possible on transitioning to a primarily online banking experience is the key to both existing member retention and the growth and expansion of member base and platform options.
Raoust also made sure that Heritage Grove was not simply a passive bystander in the redesign process. By working collaboratively with them to solve development and content evolution challenges, Raoust was able to build an exciting new front-facing website while providing a fully extensible backend CMS able to accommodate the rigorous customization needs of the credit union. As always, a fully out-of-the-box ADA-compliant site means that Heritage Grove is even better equipped for the needs of its members and the challenges of the years to come.
Raoust is excited to have once again been part of defining and refining this vibrant institution's ongoing and thriving brand through a holistic web redesign, and we're looking forward to seeing how they're able to tackle 2021 and beyond with a renewed sense of purpose.
View the new Heritage Grove website
---