It took Glacier Hills 84 years to get to $131M and then...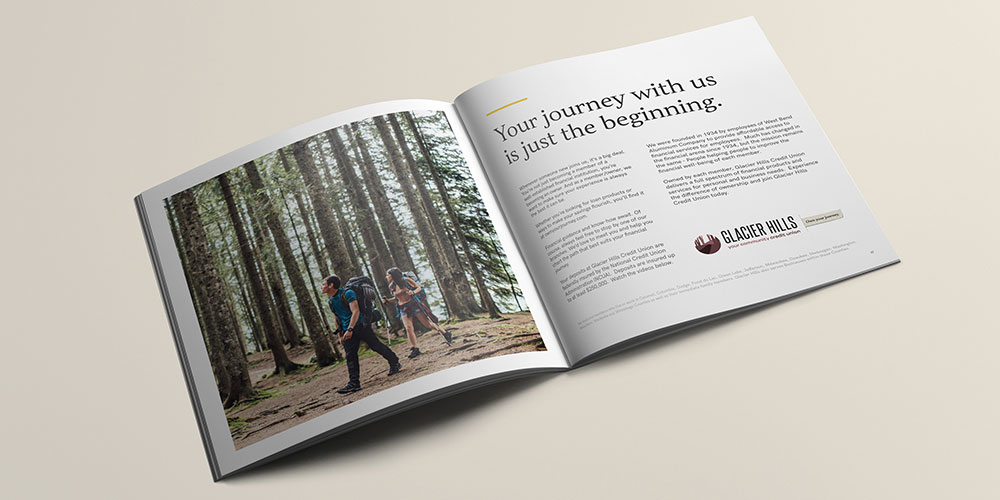 Why owning your journey points the way forward.
When credit unions reach the decision to rebrand, typically they assume that this will entail a name change. Sometimes it does. But sometimes it does not.
Quite often, a perfectly sound name—rooted in history and regional significance—more than anything needs context and relevance. Forget generic and/or antiseptic taglines and logo icons that could literally apply to any one of thousands of financial institutions. Instead, tap into what is unique and compelling within the DNA of your credit union and the community in which it "lives."
Such was the case with Glacier Hills Credit Union, headquartered in West Bend, WI, when they hired us in Summer 2018 to undertake a rebrand of the credit union.
---
In this 3rd installment of our "What's in a name" series, we'll walk you through our Glacier Hills rebranding process in 5 simple questions + answers.

---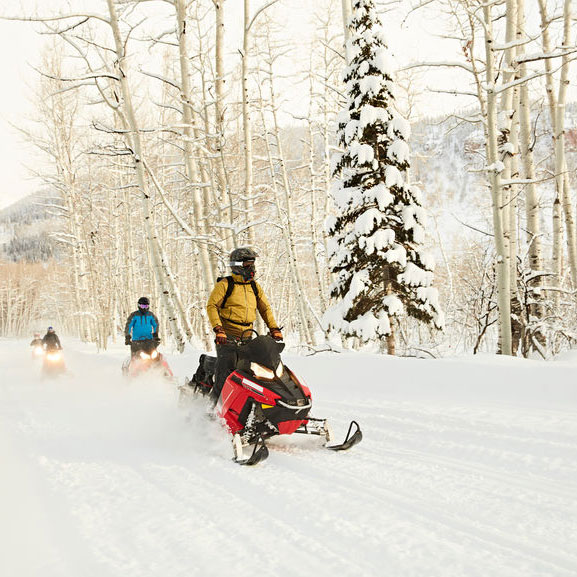 What were the credit union's issues, challenges and problems?
Chartered in 1934, the credit union had grown to an asset size of $130,638,376 and then stagnated. Membership of 15,149 also followed that trend. Their new CEO at that time had much more aggressive objectives for this credit union.
Immediately, we noted that the credit union's brand looked and felt generic and anonymous—down to the tagline of, "For you." It did nothing to leverage this very cool region of Wisconsin and the outdoor lifestyle of its residents. Marketing materials were what we would call rudderless—lacking in consistency and strategic direction.
What went into the process of identifying what this credit union is really all about?
We conducted our typically extensive research process—including member feedback loops and prospective member focus groups, in addition to demographic and psychographic intel mining of the region itself. While much of that research may seem typical, our relentless curiosity and thirst for creative excellence combined to create a unique story for Glacier Hills. Of course, this was helpful but not as insightful as meeting and getting to know the folks who are Glacier Hills—down to earth, smart, caring.
How did this process inform the visual aspects of the new brand—logo + tagline, color palette, font selections and image choices?
The logo + tagline, color palette and fonts were all largely informed by the region, and the same for all imagery. There is an earthy warmth to this brand, and at the same time, strength. Colors chosen are unique for a financial institution—a rich brownish burgundy and lighter tones of this color—punctuated unexpectedly with an eye-catching ochre.
The logo icon evokes the terrain of this region, while the tagline ("Own your journey.") effectively cements the credit union's mission for its members. It is also a classic invitation, whereby the implication is that as a Glacier Hills member, you are in control and you call the shots.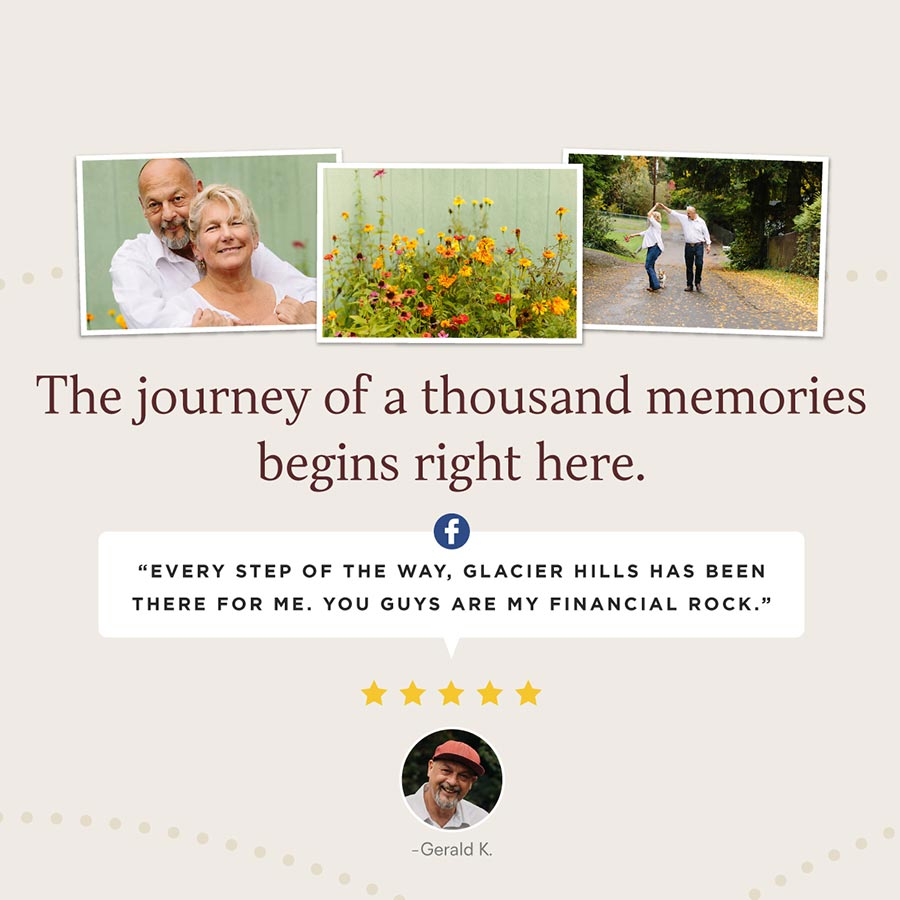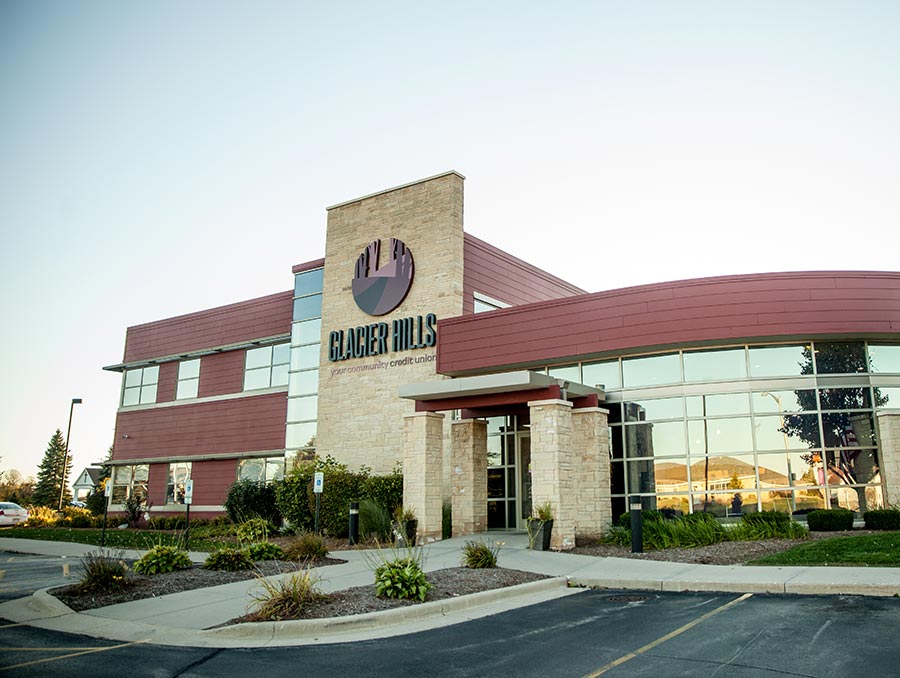 Why did we determine that a name change was not necessary?
Fundamentally, the name is solid. In fact, Glacier Hills is associated with a well-known geological formation in that part of Wisconsin along the so-called Kettle Moraine that dates back between 15,000 to 18,000 years. Besides, Glacier Hills "suffered" more from a lack of identity rather than from a negative one. So, keeping the name allowed us to leverage the geography and highlight a member's financial journey.
What has this new brand done for Glacier Hills in the 3 years since its launch?
From the community's perspective: Made it real. Made it relevant. Made it a strong player in their market, now able to compete effectively with the "big boys."
From the credit union's perspective: the brand has given them wings. There is a real "pride of appearance." It is a brand like an REI or Patagonia where outdoorsy, usually rugged and always aspirational imagery complements the color palette and logo icon.
From an ROI perspective: Since the rebrand, asset size has increased by 56.5%. Net member growth is 9.0%. And net loan growth is strong and healthy—far outpacing peers and virtually all competitors in their FOM.
---
Has your credit union reached a point of either stagnating growth trends or even negative ones? We can help you reverse these trends. Let's start a conversation.
---