Your members can be integral to your acquisition strategy.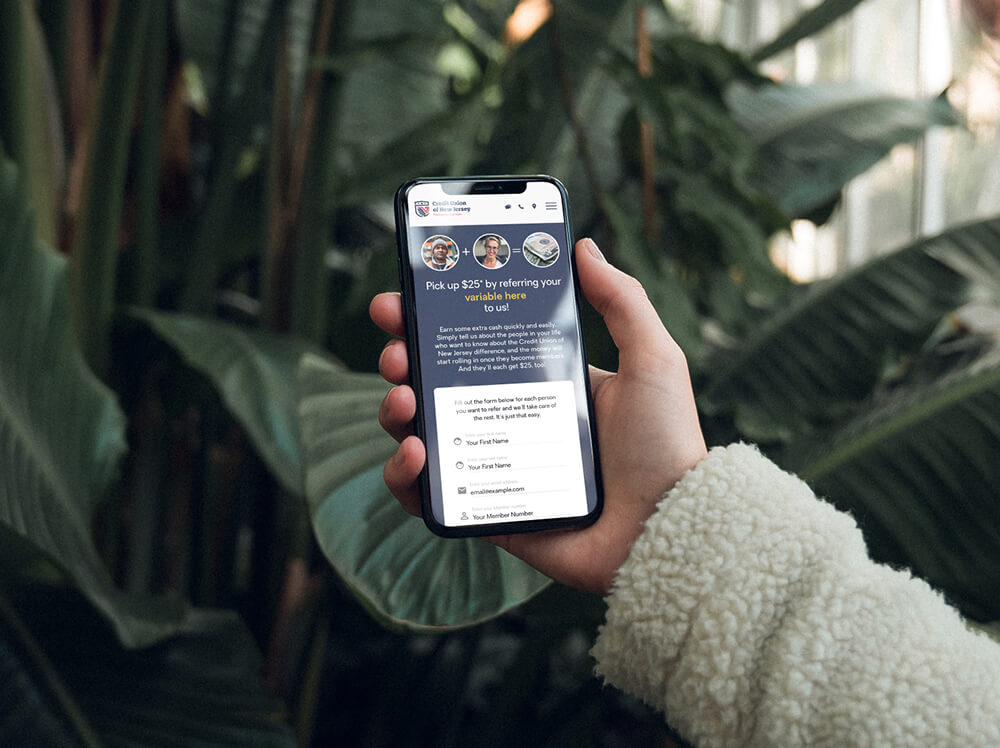 Credit Union of New Jersey's member referral success story
Sometimes, using the assets your credit union already has can yield the best outcome for the job at hand. There are a plethora of incredible, highly-specific marketing tools available these days; however, the smartest solution can be right in front of you. In this case, that would be the existing membership of Credit Union of New Jersey.
After a comprehensive rebrand in August 2018, we worked with Credit Union of New Jersey to address accessible entry points to membership growth. One of the lowest hanging fruits was the introduction of a simple, highly branded member referral program.
By offering an affordable yet enticing incentive to both the member and the referral, and providing an accessible fully online portal, Credit Union of New Jersey has experienced steady organic new member growth with very little overhead cost. In fact, since the launch of the program in November 2018, they have averaged a gain of 21 new members per month.
Now that may not seem like a huge number, but it's really a win-win. Win #1: The referral program has acquired these new members at an incredibly low cost to the credit union—just $50 per. In a time when average new member acquisition can be anywhere between $400 and $700*, this referral program is getting the work done at a fraction of the cost. Win #2: That new member already has at least two products with CU of NJ from the outset.
Why is this particular program a success? The referral process is super simple and fully online, while also emphasizing extraordinary levels of care, attention and service. Thus, CU of NJ members have become staunch brand advocates—and with only a few clicks.
Especially these days, a recommendation from a trusted friend carries tremendous weight. When this recommendation is paired with an incentive to join and clear steps of how to earn this incentive, hurdles start disappearing. Regardless of whether the referral has heard of Credit Union of New Jersey, this becomes a tremendous opportunity to introduce the credit union in a highly personal, highly branded and attractive way. Through effective communication by CU of NJ's onboarding team, the referral is shown that banking with CU of NJ is superior to their traditional banking experience, on top of the incentive they are receiving.
One of the biggest hurdles pretty much all credit unions face is getting and staying ahead of their member acquisition and member retention key business results. By involving your greatest asset—your members—to help take the load off the acquisition side of the equation, well, that's a good start. A classy, fun, engaging member referral portal can introduce new members to your brand and services in a way that draws them further into a relationship with the credit union.
---